Plant Based Sauces, Dressings, and Dips: Where to Get Them, How to Sell Them
While plant-based sauces, dressings and proteins offer sustainability and nutritional advantages, the best reason to add them to your menu is to increase sales. With younger consumer demand, plant-based sauces, dressings and proteins are growing more rapidly than other more traditional restaurant products.
Many of our restaurant clients are telling us that adding the plant-based menu items have been attracting new customers. This is especially true when they use social media along with server and staff training to promote the items. In many cases, HotOperator has seen substantial increases in incremental sales for our restaurant clients.

The Facts: Plant-Based Is The Future Of Foodservice
According to Nielsen, dollar sales of plant-based alternatives to traditional food items grew 17% in the past year compared to just 2% growth for more traditional items. If your foodservice business isn't taking advantage of these trends, you may want to rethink your menu options.
Further, according to the same report, plant-based dollar sales growth has accelerated in the past year compared to the prior year. What this tells us is the trend is going to continue. The future of your menu and the products you sell will change with it, or your company will get left behind. You may not survive, especially with the Coronavirus putting a large percentage of full service restaurant operators out of business.
Across key categories, dollar sales of plant-based foods are growing significantly, while dollar sales of conventional animal foods are declining or growing only modestly. As an example, over the past year, dollar sales of conventional milk were flat, while dollar sales of conventional yogurt and conventional eggs decreased by 1% and 10%, respectively.
According to Mintel: Young people are driving food trends to meet their personal values and morals. This is seen by an increased interest in sustainability and traceability practices.
Everything On Your Menu Must Taste Great
Keep this in mind: consumers won't give up the flavor of the products you are selling just because they are plant-based. So it is essential to have the right resources for the items you put on your menu. Consistency is key, the right recipe is critical and you do not want any manufactured or factory after taste. The only company that HotOperator has found that offers plant-based products that can be taken right out of the package in foodservice and used in recipes is Good Foods.
What HotOperator Recommends: Good Foods (If You Can Get It)
In a recent cutting, HotOperator staff experimented with several products and found that Good Foods tasted the most like products cut in house. In fact, the products were so clean and fresh that we could not tell the difference between Good Foods items and those that were cut in our kitchen. The only downside is, you will have to work with your distributor to bring the products into your business as they are new to foodservice and do not have broad distribution. The upside, of course, is you will have a product that none of your competitors has, which would give you a marketing advantage.
Recipes That Offer Plant-Based Plate Contributions
Here are a few menu ideas for fast-casual and full service restaurant operators that travel well (perfect for carryout and delivery) that also bring badly needed bookend sales for restaurant operators. One of the biggest complaints we're finding with our clients is they are not getting the additional sales they once enjoyed. Consumers order carryout and delivery foods differently than they do when they dine in. They simply do not order side dishes, appetizers and extras as often. You can change that, however with the right recipe ideas.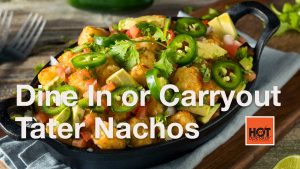 Tater Tot Vegan Nachos (VE)
Gold tater tots smothered with plant based queso, a dollop of house-made guacamole, and our own Pico de Gallo relish.
Mrs. Bea's Dirty Rice Rolls (VE)
Bea's handmade rolls stuffed with a blend of rice, impossible taco meat, spices and dairy-free queso, then flash-fried and served with our house-made guacamole for dipping.
Artichoke Mustard Greens Dip (VE)
An amazing, diary-free blend of artichoke hearts and mustard greens in creamy plant queso served with house-made Creole seasoned tortilla chips.
Mahi Mahi Tacos
Grilled mahi mahi with thin-sliced cabbage slaw, salsa avocado and dairy-free avocado ranch.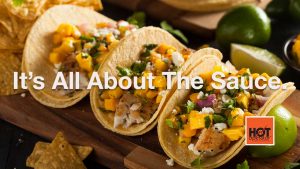 Chopped Mexican Salad (VE)
Mixed greens with roasted peppers, charred corn, black beans, vine-ripe tomato and a side of house-made guacamole and flash-fried chips.
Vegetarian Pita (V)
With stuffed grape leaves, spicy queso blanco, lettuce, tomato, red onion and cucumber.
BLAT
Applewood smoked bacon with vine-ripe tomato, torn leaf lettuce, mayo and our house-made guacamole.
Smoked Turkey and Avocado Spread
On Asiago bread with lettuce, tomato and caramelized onions.
Vegetable Stir Fry (V)
Zucchini, carrots, red bell pepper and onions stir fried with an Asian ginger sauce.
Vegan Protein Bowl (VE)
Plant-based taco protein seasoned with a blend of tomatoes, garlic and chilies. Topped with hand-sliced, sautéed in-house red and green bell peppers, red onion, corn salsa, salsa verde, cilantro lime rice, and seasoned black beans. Served with dairy-free queso, house-made guacamole and salsa.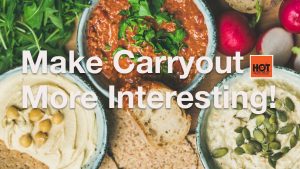 Chip Trio (VE)
The perfect side or snack, our house-fried chips are served with fresh guacamole, dairy-free queso and avocado salsa for dipping.
How To Sell More Sides, Adds & Plant-Based Foods
Consistency Is Key
First, make sure everything you sell tastes great. This is essential to your overall success. The product must taste great, and you have to be able to make it taste great every time. I go back to Good Foods as really the only source that makes products that taste as good as those made in house.
Use Social Media
When you bring in a new product, tell people you have it. Take photos, post them on social media and boost them so people want to try them. HotOperator does a lot of social media work with our clients. We recommend posting nearly every day. If you would like help with your social media efforts, reach out to HotOperator here.
Offer Samples
We highly recommend offering samples to your customers for free. One of the best ways to do that is to simply add a sample of the new product in each order that comes in. So, if you have a new guacamole recipe with chips, make up a small sample and add it to every carryout and delivery order that comes in. Place a promotional sheet in the bag telling them to try it, and if they like it, think about ordering it next time.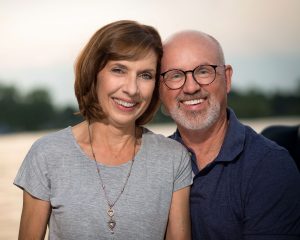 The Mark & Kelly Show
Mark and Kelly Laux are a creative team. They have been working together long enough to be able to answer each other's sentences. They have experience with every aspect of the foodservice industry. From food manufacturing to distribution to restaurants to consumers, their experience and creativity will help you grow your business. Put simply: if you sell food on planet earth, they can help. Reach out here. Or through HotOperator here.