Shouldn't The Holidays Be Busier For Restaurants?
How to grow a restaurant business during the holidays and a pandemic
Talking to a long-time client yesterday and he said that the last three weeks have been brutal for his business. Then I got a call a few moments later from another client saying that his business suddenly fell off a cliff. So I texted several other clients and got the same response: the month of December should be busy, but the opposite is happening.
Part of the problem is the stimulus money has run dry, so consumers are feeling the pinch of the lack of money. Sadly, one of the first industries to be hit by any financial crisis is the restaurant business.
Here is some of the advice I'm giving my clients. See if it might help your restaurant survive until sometime next year.
Independent Restaurant Current Situation
Volumes are lower for most restaurants. Unless you have a drive through service, you're going to struggle a little. Curbside pick up is just not the same as drive thru. But you do have an advantage, as consumers are looking for home meal replacements that offer something special. These are comfort foods that offer something that a consumer would not make at home.
Old stand by items will drive your sales. These are the star items on your menu that your followers will love more than anything else, and are willing to take the time to pick them up. If you have not done a Menu Matrix in a while, now is the time to have it done. You need to know how your foods have shifted over the last several months.
Trim Your Menu Now
A smaller menu will help. Bring focus to the items that have a good return on investment and that your best customers like most. Make sure anything you sell will travel well. Most of your business will be delivery or carryout, so make sure you have tested those items before promoting them. That means cooking them up and driving around with them in your car for half an hour and then seeing how good they are.
Set Up Delivery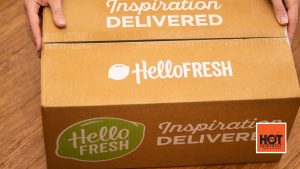 Yes, it's expensive. But it is essential. Take a price increase on the items you sell for delivery and do your best to make it work. Most of our restaurant clients report that the 3rd party delivery companies take between 19% and up to 30%, so you will have to make sure your products can still bring a profit. Unlike larger chain restaurants, you can't negotiate the same deal they get. But my guess is, you have a better product and local followers that they will never get. Every restaurant operator I've talked to who had added delivery has seen a very solid increase in volume. At times like these, you need to find a way to make this work.
Packaging Fried Foods For Travel
French fries, onion rings, cheese sticks, and other fried items do not travel well in a closed container. When you put your fries in a styrofoam container they steam. When fried foods steam, they get soggy, and taste stale. The best way to package anything fried is in an open, paper cup in a paper bag. And be generous, especially with French fries. Take direction from Five Guys. Put the fries in a paper cup and then dump in an extra fist full so the bag has an overflow of fries. Your guests will be pleasantly surprised and love you for it.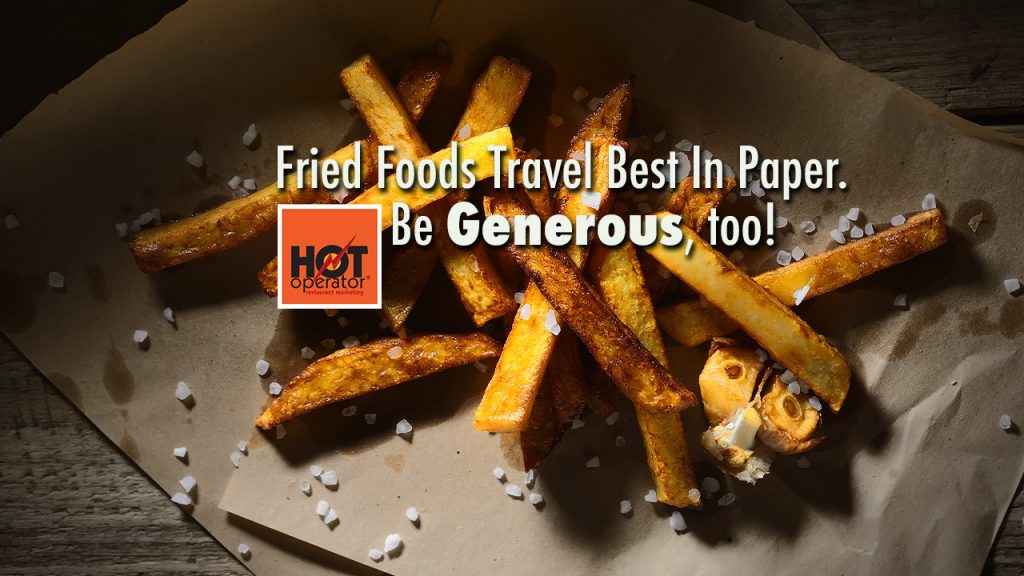 Your Brand May Be More Powerful Than You Think
Your guests may think more highly of your business that you give them credit for. But you may not be top of mind at the moment. So, before you decide to add a new brand or franchise something as a ghost kitchen, think about promoting your own brand more aggressively. Spend some real money on social advertising and get some outside help with your social media creative.
Don't abandon the work you've done over the years too quickly. Instead, put energy behind your brand and get in front of your customers.
Get Online Ordering
If you already have online ordering, good for you. If not, get it done, now. The old fashioned process of having people call to order won't be back anytime soon, if ever. Yes, it's costly, but it is the only way to keep cash flowing. Take a small price bump to cover the extra costs and get it done as soon as you can.
Here is a list of the top ten online ordering systems. But your first step should be to contact your POS provider and ask them if they have a system you can add to your current program. Most online ordering systems require you to use their POS, or use their credit card processing, and you need to be careful that you're not putting your business in jeopardy by being over charged.
1.MenuDrive

2.ToastPOS

3.ChowNow

4.Upserve

5.Square POS

6.Restolabs

7.CAKE

8.iMenu360

9.GloriaFood

10.Ordering.co
Be Creative With Drive-By Pickup
For most restaurant operators that do not have a drive thru, getting a drive thru is nearly impossible. Many don't have a way to add that. Instead, develop a more sophisticated way to do drive-by, drive around or toss-n-go service. Make it a system, make it sound cute and make sure the people delivering the food to your guests are well dressed, have a mask on, and are wearing gloves.
You may not be able to get the volume that the local McDonald's is enjoying at the moment, but you can increase your business if you promote a system for allowing your guests to pick up their food quickly and move on with their lives.
Sell Out Of Your Fridge or Freezer
We have a number of clients who are doing well with a take and bake, or home meal replacements. This can be a half pan of lasagna, meatloaf with sides, broasted chicken or anything else that can heat up in the microwave at home. Be creative, though. Don't just sell meatloaf, but make it interesting. Make it a cheese stuffed meatloaf with a red onion and citrus brown gravy, honey glazed carrots and whipped potatoes.
Most important, whatever you put on the home meal replacement menu, make sure it is something that you would not make at home.
Get Someone To Talk To
It can be lonely owning a restaurant business in a troubling time. What helps is to have someone you trust you can talk to who can offer an objective opinion. This is an emotional time for many restaurant operators, and it can help to have a friendly voice who talks to a lot of people in the industry. If you want to talk, click the link and set up a consultation. Mark will listen, offer advice, and if nothing else, make you feel a little better.
The Mark & Kelly Show
Mark and Kelly Laux are a creative team specializing in food. They have been working together long enough to be able to finish each other's sentences. They have experience with every aspect of the foodservice industry. From food manufacturing to distribution to restaurants to consumers, their experience and creativity will help you grow your business. Put simply: if you sell food on planet earth, they can help. Reach out here. Or through HotOperator here.