7 Ways To Save Your Restaurant Business
The COVID crisis has been extremely difficult for many independent and chain restaurants. As a marketing company specializing in food service, Laux and HotOperator have worked with countless restaurant operators to help them recover their sales and profits. Here is an article that may help you save your restaurant.
Fall job growth in the restaurant industry remained diminished. Eating and drinking establishments added a net 200,300 jobs in September 2020 on a seasonally-adjusted basis, according to preliminary data from the Bureau of Labor Statistics (BLS).
September's growth came on the heels of a downward-revised increase of just 104,300 jobs in August. Taken together, the employment gains in August and September were a small fraction of the 3.5 million jobs added during the first three months coming out of the coronavirus lockdowns. As a result, bar and restaurant staffing are still down 2.3 million jobs from February's peak.
How Coronavirus is Impacting Your Restaurant Business
As a result of consumer changes around the coronavirus, the restaurant industry has been hit hard with restaurant and foodservice sales losses surpassing $185 billion between March and August. Without the expansion of off-premises business in restaurants across all segments, the impact would have been much worse.
To boost off-premises business, some restaurant operators added curbside takeout, added by about 67% of operators since the beginning of the COVID-19 outbreak in March. That's according to a survey of 3,500 restaurant operators conducted by the National Restaurant Association from August 26 – September 1.
Third Party Restaurant Delivery Is Up, But is it Profitable for Your Restaurant Business?
Twenty-seven percent of operators say they added third-party delivery, while 17% added in-house delivery. Among the restaurant operators that added any of these off-premises options, a majority say they plan to continue offering it after COVID-19 passes. This points to changes in both consumer behavior and how restaurants work.
The $26.8 billion online ordering market is turning out to be the fastest-growing source of restaurant sales in the United States, according to The NPD group. Digital orders, while still accounting for just 5% of all restaurant orders, are growing some 20% each year. Restaurant visits, meanwhile, are remaining mostly flat or declining. Expect the numbers for online and call-in orders to continue to grow.
Here are 8 Marketing Ideas for Your Restaurant Business
Turn Your Kitchen Inside Out
This is a long term idea but worth considering. We generally think of a restaurant as a kitchen attached to a dining room. But imagine it differently. Imagine a kitchen that supports dining experiences through carryout and delivery stations. Rather than just putting your dining room tables and chairs in storage, rethink the layout and add new approaches to your restaurant business.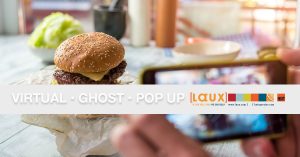 Pop-Up Brands
In the short term, don't cling to what you have sold in the past. Instead, start thinking about what you could sell. If you have a steak joint, you can make a pop-up brand that sells wings, sandwiches, or even ethnic foods. At this moment, it's not at all about what your restaurant brand represented, it's what your kitchen can support.
All you need is a name, logo, a little merchandise, a menu, a couple of social media pages and a website. Just make sure the new pop-up brand offers products that travel well, and that you can make the food items without any equipment investments.
Virtual Brand
Rethink your brand to be more virtual. This is actually easier than you think. Simply set up a carryout menu to only offer the products that travel well. Then market on social media and your website with exclusive products for carryout, curbside and delivery only. Make sure you test everything you want to sell for carryout and delivery. That means taking it home with you and eating after it has been sitting for half an hour.
If you get your food home and it sucks, your customers will probably agree with you.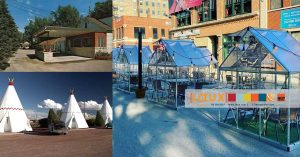 Turn Your Restaurant Inside Out
When I first moved into my current home there was a motel down the street. It consisted of a drive up residence and a string of 12 little buildings. In Holbrook Arizona there was a hotel with a cluster of little Wigwams. Fast forward to Chicago, summer of 2020 and there is The Darling Rose Garden that features a similar approach to privacy, 10 greenhouses you can dine in. Maybe this isn't practical for everyone, but it's a very cute idea. Imagine a restaurant not as a big, open concept, but instead, something broken up, protected and private.
To make this work, you will need to rethink what it means to go out to eat. That and have a higher value offering so you can charge a little more. Or, make a drive thru and compete with McDonald's and Taco Bell.
Ghost Kitchen
If you're thinking about opening up a new restaurant concept, open a ghost kitchen. Consumers, even in smaller cities, are changing their dining habits. They are eating out less often, but they still want a break from home cooking. Plus, if your kitchen needs volume, lease space, staff and equipment to other brands. Or work with a marketing company and develop a new brand. Build a Facebook page, a small website, a logo and some merchandise. Then work out a carryout and delivery menu and start selling.
Ghost Kitchen sounds good, but you need a brand? Hmmm, where can you find a really good marketing company that specializes in restaurant brand development? 
Home Meal Replacement
Some of our most successful clients are offering home meal replacements. These are package dinners that include the main entree, sides, salads, desserts and drinks all for one price. And all of this is for delivery, carryout, or curbside pickup.
But you need a menu and promotions to make this work. Home Meal Replacement will not create itself. It takes skill. It takes creativity. It takes a marketing company that specializes in the restaurant business.
Groceries
Seems like centuries ago, but as recently as April and May, restaurant operators were offering groceries as a way to make extra cash. If you go this route, think about groceries to make meals. If you are going to sell eggs, sell omelets with all the ingredients and the recipes instead. Consumers don't meal plan groceries at a restaurant. So you will need to do that work for them.
The Mark & Kelly Show
Mark and Kelly Laux are a creative team. They have been working together long enough to be able to answer each other's sentences. They have experience with every aspect of the foodservice industry. From food manufacturing to distribution to restaurants to consumers, their experience and creativity will help you grow your business. Put simply: if you sell food on planet Earth, they can help. Reach out here. Or through HotOperator here.